Camel Karma's launch was simply wonderful! The setting in the fragrant Chokelao Bagh garden against the backdrop of the truly majestic Mehrangarh Fort. One of my favourite camel related songs "Gorbandh" played by Manganiyar musicians. My long-term Raika friends including internationally famous pastoralist activist, Dailibai. Staff and interns of LPPS in attendance. The book wrapped in camel poo paper.....
Most of all the wise words and kind support of His Highness Maharaja Shri Gaj Singhji II of Marwar-Jodhpur who noted the instrumental role of the Rathore Rajputs in the history of the camel in Rajasthan and called for a new approach to saving it.
Before his vote of thanks, Hanwant Singhji, presented His Highness with an assortment of camel products - stoles, dhurries, soaps and poo paper items - which met with much appreciation. Later there was some light-hearted banter between all of the launch guests.
Then, while I was signing books, the Raika engaged in photo sessions and made friends with Thakurani Jyotika Kumari Diggi, the host of the Jaipur Lit Festival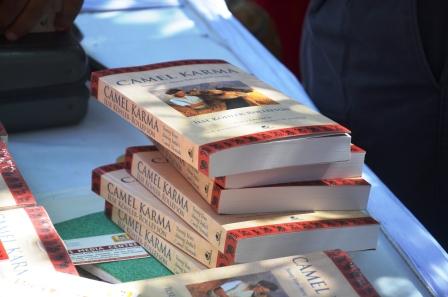 A memorable event by all standards, and we just hope that Camel Karma will help to highlight both camels and the unique Raika culture they are associated with!